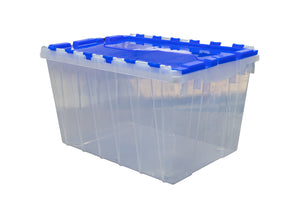 Our 12 gallon clear storage bin is not your standard off the shelf bin! They are heavy duty and compatible with all of our handcrafted PCI cases. 
These come standard in our Children's Registration Kiosk as well as our Curriculum and Storage case. They're used as a means for storing first aid kits, label printer paper, or writing utensils. You can also use them for storing scuba wall backdrops or pipe and drape panels. They are even used for communion and coffee supplies. These are time tested and PCI approved. 
Dimensions:
21.5" L x 15" W x 12.5" H
*Shipping is not included at time of purchase. You will be contacted by our sales department with a second shipping invoice. Order cannot be shipped until the shipping invoice is paid.
Shipping requirements are different for each order. To ensure accurate and cost effective shipping prices we do not add shipping until we have the final weight and dimensions of the finished product.