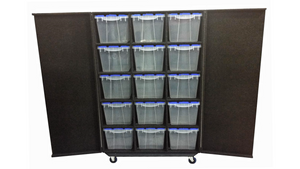 Shelved Curriculum and Supplies Storage Case
Also known as our Honeycomb Case
This carpeted case can be completely customized to your church's personal needs by adding or removing shelves. You can also choose to have just the shelves with no bins or you can choose to make it a complete set with all of the bins included. This case is not limited to curriculum supply storage. It can be used for hospitality, merchandise, children's supplies, media, whatever you need. It is extremely useful for compartmentalized storage.
Design Note: If you choose to go with the customized design, please contact us for purchase as there is an additional charge. The storage bins are our standard clear 12 gallon totes with lid. Please know that all cases are able to have the carpet removed as a budget friendly option. Send us an email at info@portablechurch.com or call us at 800-939-7722 for more information! Shipping not included*
Dimensions:

Ext. Dimensions HxDxW in Inches:
Int. Dimensions HxDxW in Inches:
67 3⁄8 x 24 3⁄8 x 47 7⁄8 
*Shipping is not included at time of purchase. You will be contacted by our sales department with a second shipping invoice. Order cannot be shipped until the shipping invoice is paid. Our products are custom made to accommodate each church and their specific needs. Shipping requirements are different for each order. To ensure accurate and cost effective shipping prices we do not add shipping until we have the final weight and dimensions of the finished product.