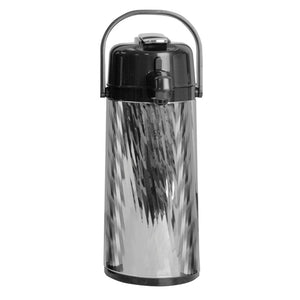 Newco Diamond Shell Airpot
Let's be honest - no one likes a bad cup of coffee. The Newco Diamond Shell KK Thermal Airpot features a Dual Pipe Brew-Through Stem which means proper mixing of coffee happens every time. You'll never end up with a bad cup!
This glass lined airpot might be your most used piece of equipment. It has a high quality commercial design that is both functional and durable.  
 

Capacity:

2.2 Litre

74.39 oz

12.3 - 6oz cups

*Shipping is not included at time of purchase. You will be contacted by our sales department with a second shipping invoice. Order cannot be shipped until the shipping invoice is paid. Shipping requirements are different for each order. To ensure accurate and cost effective shipping prices we do not add shipping until we have the final weight and dimensions of the finished product.